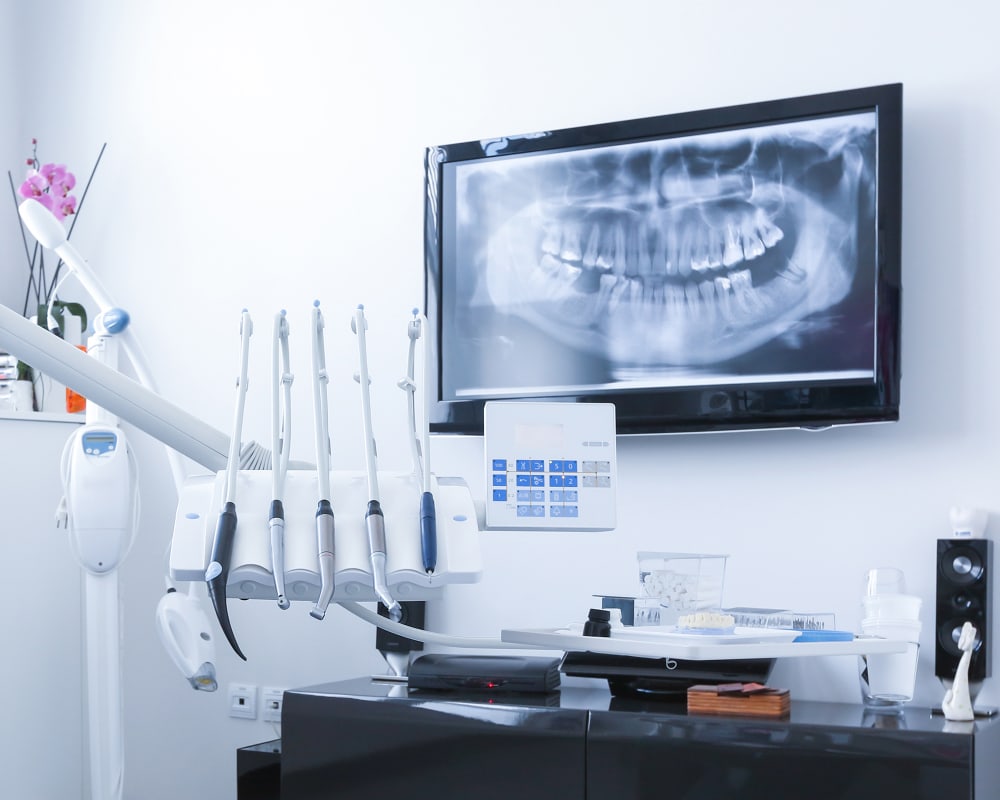 Our Technology
Our Laval dentists know how much of a difference the use of dental technology makes in the effectiveness of care.

Thanks to these tools, we can offer our patients treatments that are comfortable and safe, in addition to being able to make diagnoses in order to adapt our care.

Our goal is to help our patients remain fully informed about their oral health.
Digital X-Rays
In addition to providing high-definition images, digital X-rays reduce radiation exposure to make the procedure as safe as possible. The images obtained are transmitted directly to our computers, which can mean less waiting for you during your visits. These images facilitate diagnoses and help us provide you with the care best suited to your needs.
Panoramic X-Rays
Panoramic X-rays allow your dentist to create a single image of your entire mouth. This image is a flat representation of the teeth, upper and lower jaws, temporomandibular joints (TMJ), and the nasal and sinus structures. Panoramic X-rays are often used to help plan treatments for dentures, braces, extractions and implants.
Dental Lasers
In dentistry, lasers (focused light beams) can be used in a variety of soft and hard tissue procedures. They allow our dentists to perform dental procedures with less pain and fewer medical interventions.  At Espaces Sourires, our dentists use lasers to remove overgrown or decayed tissue, to reshape the gums, to cure dental restorations quickly, or to whiten teeth.
Intraoral Scanners
The intraoral camera provides high-definition images of our patients' teeth and mouths. In addition to helping our dentists make accurate diagnoses, this tool improves communication with our patients since they can see what is happening in their mouths in real-time. They are thus able to better understand the problem that affects them as well as the treatment they are advised.
Oral Cancer Screening Device
The VELscope® is an oral cancer screening device that helps the dentist to identify abnormalities and diseases in the mouth, such as cancerous and pre-cancerous lesions. Using fluorescence visualisation technology, it can be performed in your dentist's office during routine exams and under normal lighting conditions in about two minutes. 
CEREC Same-Day Restorations
CEREC technology enables the design of ceramic crowns and restorations. At Espace Sourire in Chomedey, our dentists can design restorations adapted to your mouth using digital impressions. These impressions are then transmitted to software, which creates a 3D model. Finally, your crown is created from a block of ceramic in under an hour.
iTero 3D Scanner
Thanks to this technology, we have an alternative to having to make traditional impressions. This translates into less time spent in the chair since digital images are obtained in seconds. The iTero scan allows our dentists at Espace Sourire in Chomedey to view the 3D impressions taken with the device. We use it to plan orthodontic treatments with Invisalign. During the consultation, the iTero scan will allow us to simulate the final smile of our patients, which enables them to see a realistic projection of their potential smile.
New Patients Are Welcome
Are you looking for a dentist in Laval? Our dentists will be delighted to welcome you and serve you.
Request Appointment